About:
Party Smart is a violence prevention campaign aimed at making nightlife in Las Vegas safer for everyone. We believe that we can prevent sexual violence by encouraging both party-goers and bar/nightclub staff to help others stay safe.
Hashtags & Suggested Posts:
We are always hoping to hear stories and see selfies of groups sticking together and using the Party Smart promise. It's easy to do! You simply describe your experience, snap a photo and end it with a hashtag, such as one or more of the following:
#PartySmartinLV
#StickTogetherSelfie
You can also tag The Rape Crisis Center in your posts as well by using @RapeCrisisCtrLV
Here are some suggested posts for you to use on social media to help spread the word about this important safety campaign!
Twitter:
No buddy left behind! We're sticking together while we're out tonight. #sticktogetherselfie #partysmartinlv  [Share your Stick Together Selfie!]
Arrive Together. Stick Together. Leave Together. I took the Party Smart Promise. http://bit.ly/prtysmrt
Stay safe this Labor Day Weekend! @TaoLasVegas and @Uber want you to get home safe and #PartySmartinLV!
Be sure to get home safe this holiday wknd. #PartySmartinLV with @TaoLasVegas and @Uber. Learn more: http://bit.ly/prtysmrt
Facebook:
Remember the Party Smart Promise and stay safe this holiday weekend! http://bit.ly/prtysmrt
Images (please right click and save as image to download):
Party Smart Promise image sized for Facebook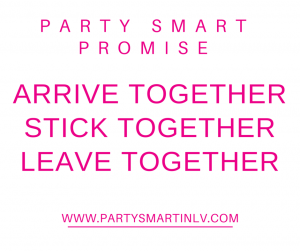 Party Smart Promise image sized for Twitter or web banner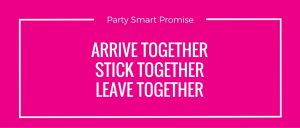 Stick Together Selfie explanation graphic for use on any social platform